STRUCTURED DATA WIRING
Structured cabling is the foundation of a successful Intelligent Building Network and the basic investment on which all other network equipment depends.
Why proper network cabling become so important?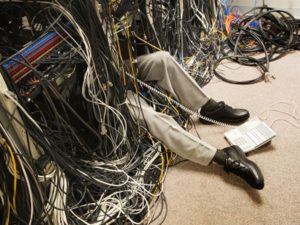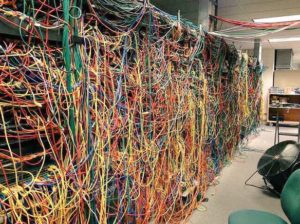 Proper network cabling done to industry standards can save organizations in costs a year. When network administrators spend precious time sifting through poorly done cabling, or your IT guy is on the clock tracking down problems, how much does that cost you?  Do you afford to lose your business just for waiting them to troubleshoot the issues?
Whenever you has a network issue, the necessity of being able to quickly locate the problem cannot be overstated. If Your network is down, and so is your company. You lose production by the minute. Having a clean, well organized, well labeled network with properly designed throughput can make the difference between minutes and hours to identify, locate, and solve network issues.
Your current network administrator may not always be your network administrator. Time is money, and nothing is more essential than your company's data infrastructure.
Have your network infrastructure designed to meet industry's standards so that any future data partner you work with will be easily able to assess your network?
Benefits of Structured Data Wiring
Reduce Risk of Downtime
There is a high risk of human error and mistakes being made with multiple, unorganized cabling structures, which can cause workflow disruptions and network downtime. As aforementioned, a well-planned cabling system also means easier troubleshooting, so it's easier and faster to identify and rectify faults quickly. With a well-planned cabling system, your devices are connected to just one local cabling panel, meaning that your IT professional can identify and rectify mistakes without wasting precious time. As an additional benefit, this action will not disrupt your employees work and your services to customer because the other devices in the network will not suffer blockages.
Enhanced Flexibility
An Organized cabling system provides an enhanced level of flexibility – helping to improve performance and drive business growth. This is because it can quickly and easily accommodate moves, adds and changes, which dramatically reduces installation time and ensures optimum adaptability to any network infrastructure changes.
Simplicity
There is a high level of simplicity and straightforwardness that comes with an organized cabling system. In a typical office environment, several different devices and IT equipment are being used at the same time, so running everything off one single system eliminates the complexity of having multiple wiring infrastructures in place.
Cost Effective
An Organized data cabling is a cost-effective solution to the smooth running of your business. The scalable  and highly flexible network will provide a continuous flow of information and will be able to cope with the high demands placed on it. One simple cabling system also reduces power and maintenance costs, and eliminates the time and money spent on locating and rectifying any issues.
What can we do for you?
"Let your knotty and
we make it natty".
Data Cable Re-Wiring & Tidying Up;
Data Cable Testing;
Data Cable Search, Repair;
Discover Data Cable Network Topology;
Labeling and Documentation.